KTC Ranks 78th of Guangdong Top 500 Manufacturers for Two Consecutive Years
Source:KTC / Send time:2019-11-14
On November 13, 2019, the Annual Conference on Development for Manufacturing Industry in Guangdong and Guangdong Top 500 Manufacturers Summit was held in Dongfang Hotel, Guangzhou. The conference was co-organized by Guangdong Manufacturers Association, Guangdong Research Institute for Development and Reform, Regional and Enterprise Competitiveness Research Center of Guangdong Academy of Social Sciences. About 500 officials and representatives from the government, associations, enterprises and the media attended the conference to witness the honor moments of these brands. It is worth mentioning that, KTC, with strong capacity and high market occupancy, has been ranked 78th among the Top 500 Manufacturers in Guangdong.
The ranking of the Top 500 began with the recommendation of local departments, chambers of commerce or associations as well as the applications of enterprises, followed by the collection and assessment of enterprise data open to the public, and was finally determined by the experts of the assessment committee on the basis of company qualifications and international rules. Making the list for the second year in a row is not only an honor and approval but also a responsibility for KTC.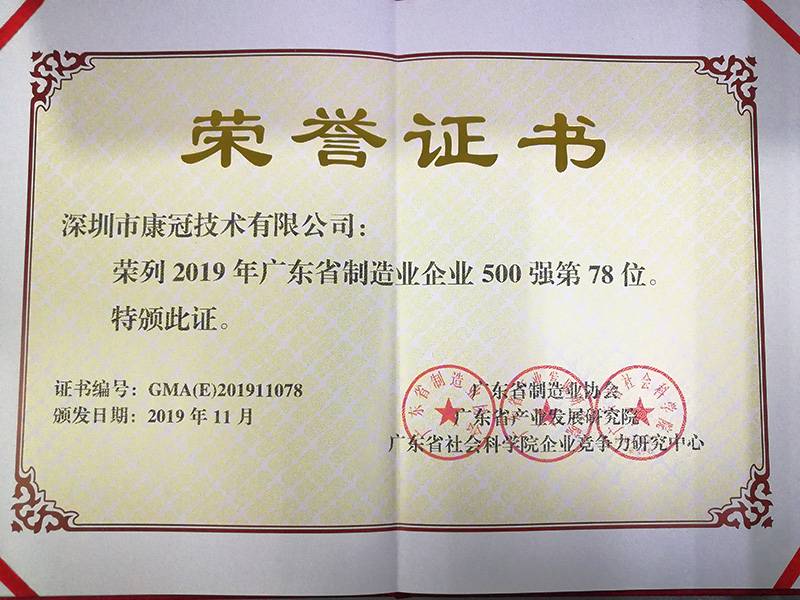 KTC fought a way to the top out of fierce competition and forged the badge of glory with technical expertise. Over the past 24 years, KTC has been pressing forward with innovation, and has made a major breakthrough in key technologies. It keeps improving product quality through efficient management, excellent techniques and customized services. With the strong capacity and huge potential in product display on intelligent flat panels, it is capable of boosting new sales growth and improving the production and composition of smart product system to ensure the sustainable development.
Faced with ever-changing social and economic conditions, KTC will continue to pursue development for the real economy and the manufacturing industry with the enterprise morals of honesty, innovativeness, open-mindedness and a sense of gratitude. It will take advantage of the strategic analysis of the industry and the market trend to establish the priority in flat panel display industry. It will ride the tide of the new age with emerging technologies and products to build a better market, stick to the policy of reform and innovation to gain more momentum, and advance with the times to make a new center for high quality development.